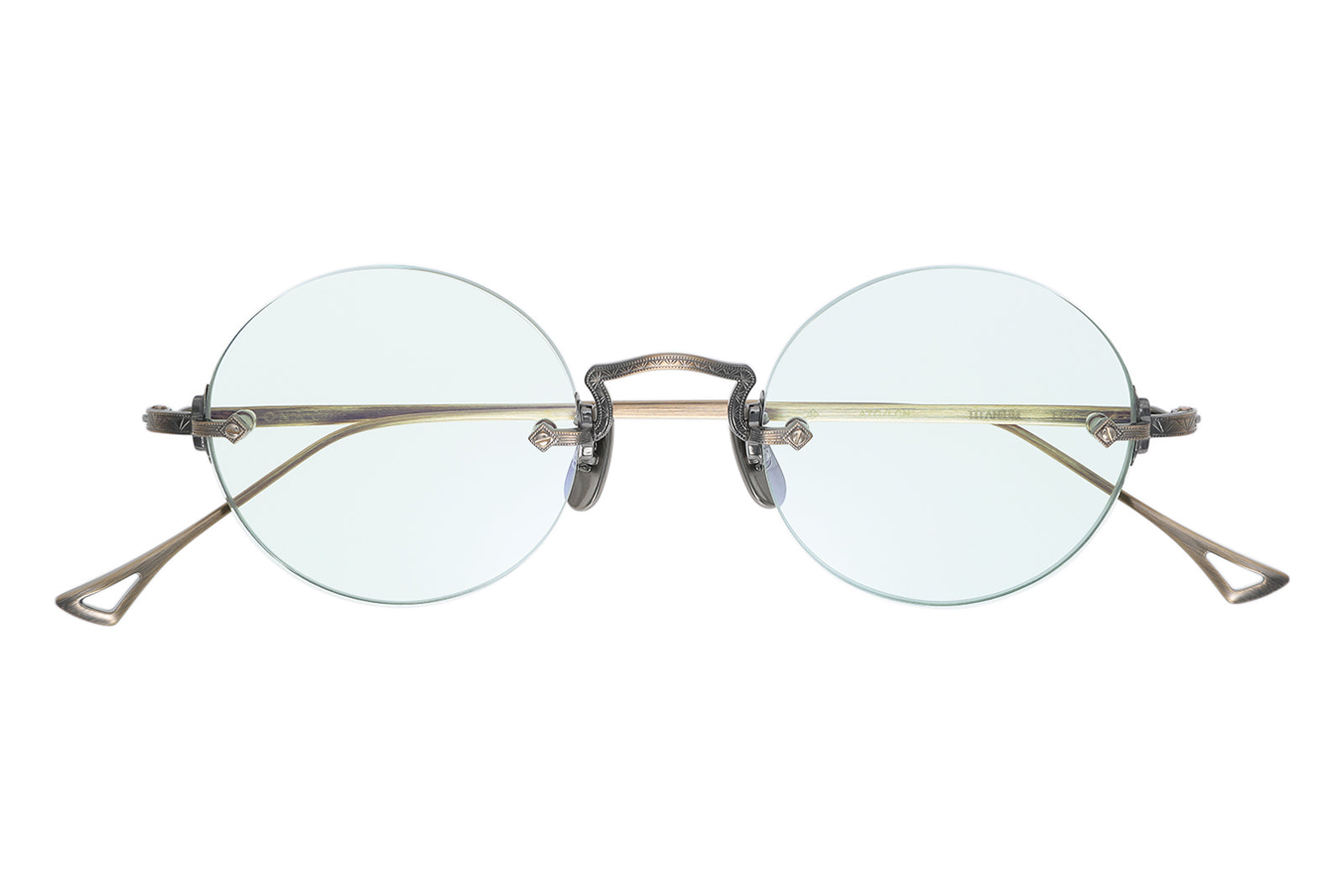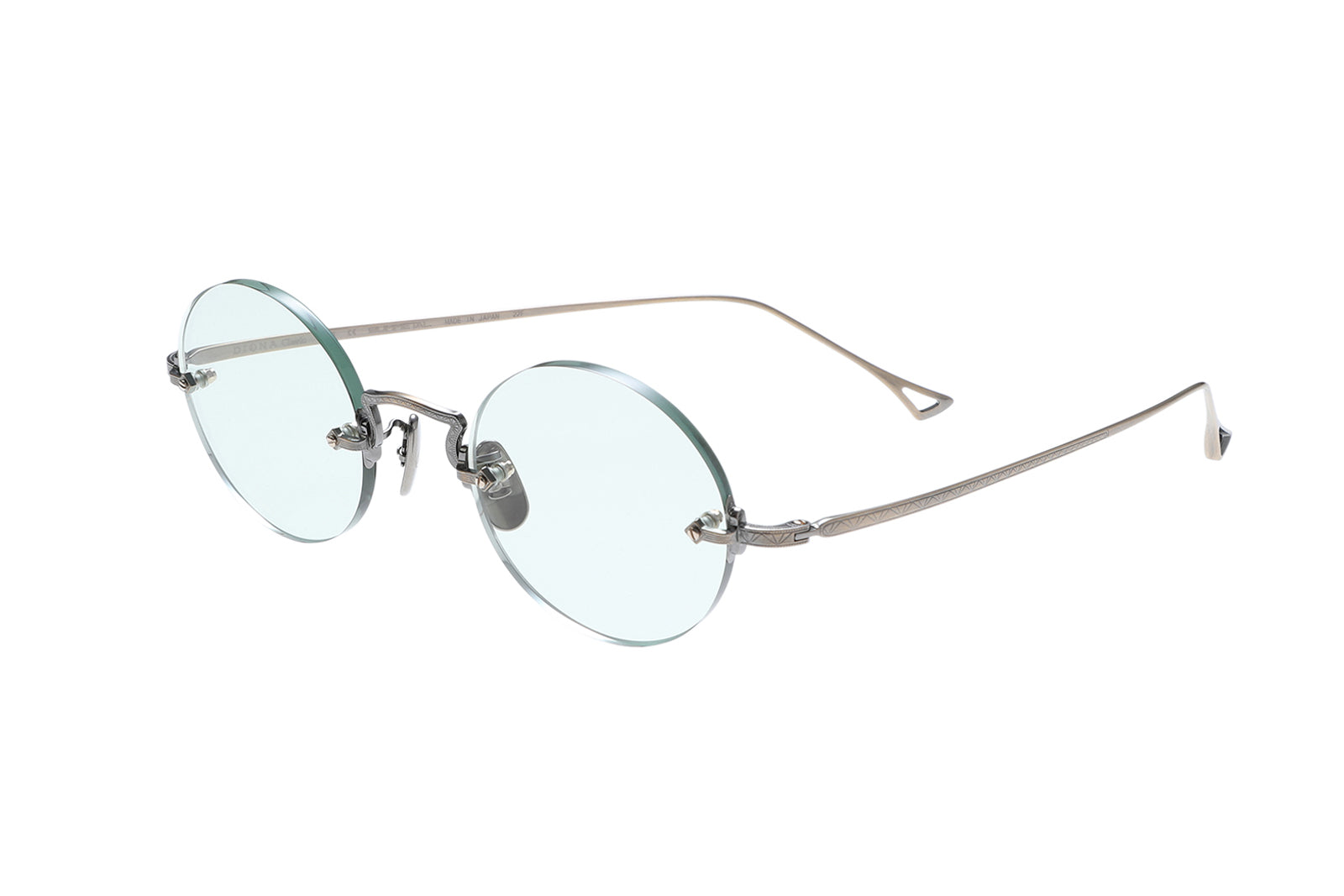 DIGNA Classic 973
フレーム/超弾性チタン、チタン
レンズ/プラスチック

Frame/Superelastic Titanium、Titanium
Lens/Plastic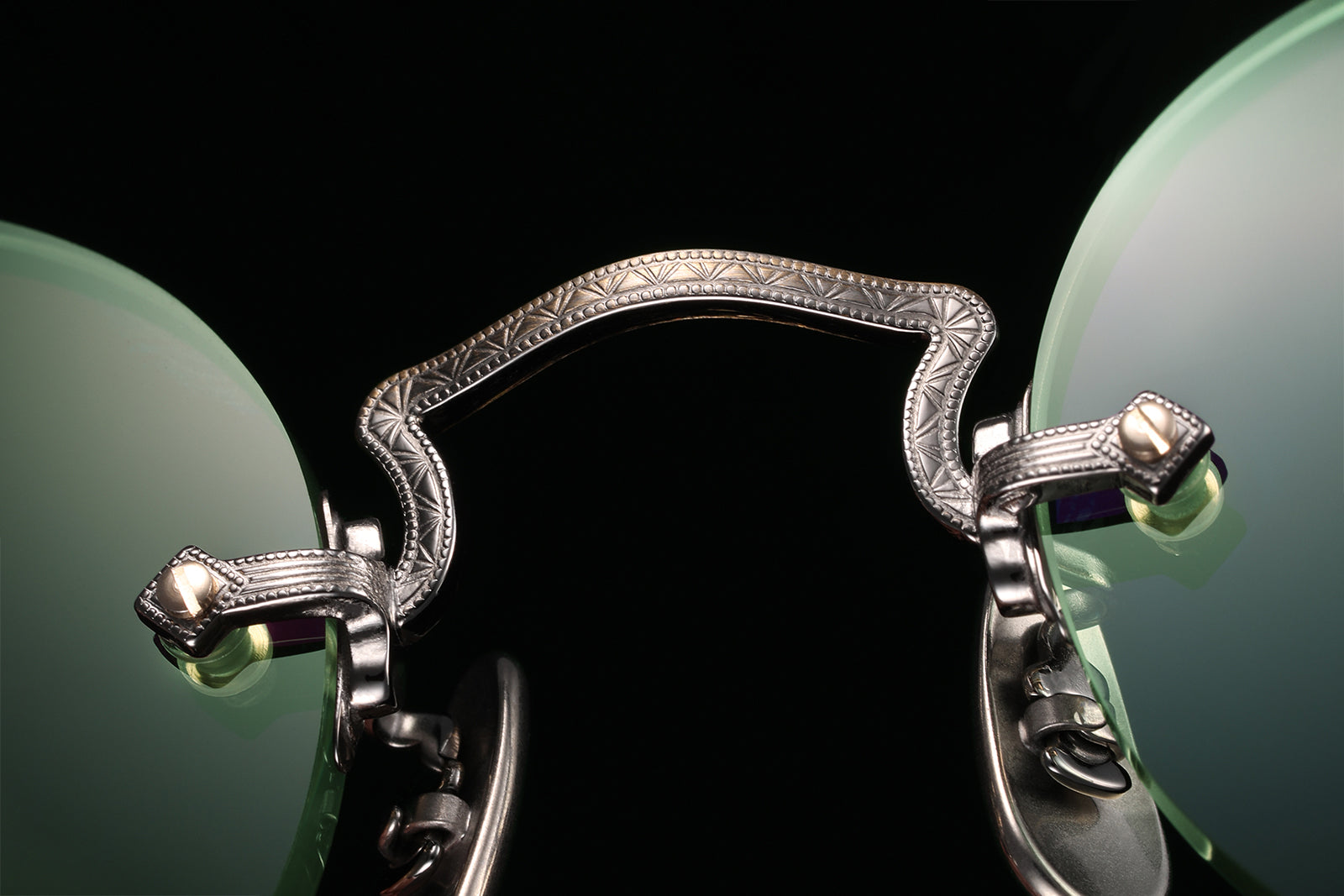 1930年代に多く世に誕生した、アメリカンヴィンテージのリムレスフレームをオマージュしたモデル。当時の繊細且つ巧妙な手彫り彫金を、世界最高峰の生産レベルにあると言われる福井県鯖江市の工場で、現代のMADE IN JAPANの生産技術を以って、どこまでディテールを近づけられるか挑戦した渾身の作品。レンズは特注となる3mm厚/2カーブのライトカラーを設定。各パーツの固定に使われるネジは、ヴィンテージライクなマイナスヘッドを使用。ダキチョウ仕様の無垢チタンパッドには、DIGNAClassicのアイコン"カブト"がレーザー彫りで施されている。テンプルに繊細な彫金風のデザインが施され、当時存在しなかった素材であるチタン合金"GUMMETAL"を採用。しなりが強く、掛け心地が良く、変形を最小限に抑える。ブリッジ、ヨロイには、手彫り型から写し込まれた繊細な彫金風のラインやミル模様が入る。ヨロイには側面、上下面にパターンが入り、プレス加工の熟練レベルは世界でもトップクラスのクオリティを誇る。シャープな面出し、磨き込まれたフレームが、世界最高峰の技術を以って仕上げられた証となる。

This model pays homage to vintage rimless frames that were largely popular in 1930s America.The delicate and skillful hand-engraving from that time has been reproduced as close as possible at our factory in Sabae City, Fukui Prefecture, which is known to have one of the most advanced production lines in the world. The details of the frames are a product of effort and teamwork, as well as Made in Japan mass production technologies which differ from the original production methods.Customers have a choice of two types of bridges and end pieces, as well as eight types of lens shapes and colors.Lenses will be custom ordered. They are 3-millimeter thick and have a 2-base curve, and are available in in-vogue light pale colors.The screws used to secure the parts have vintage-like slotted heads.The nose pads are in the daki-cho style that fits well on the nose. They are made of solid titanium material and laser engraved with DIGNA Classic's iconic kabuto samurai helmet.The temples with a delicate engraving style design are made of GUMMETAL titanium alloy, a material that did not exist in the 1930s. As a result, the frames are easy to wear, and deformation from repeated use is minimized.The sharp surface of the temple tips and the polished, high quality design are a testament to the world-class level of technology employed.The bridge and end pieces are inlaid with delicate engraving-like lines and a milgrain motif made from hand-engraved molds.The end pieces are embellished with patterns on the sides and the top and bottom surfaces. It is truly a one-and-only design in the world created by advanced processing technologies.


DIGNA Classic オンラインショップ、及びDIGNA HOUSEでお買い上げの方には、オリジナルセリート(メガネ拭き)をプレゼント。

Customers who make a purchase at DIGNA Classic's online shop or DIGNA HOUSE will receive our original eyeglass cleaning cloth as a gift.